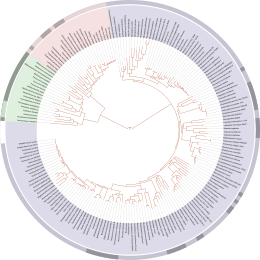 I came across this rather excellent variation of the "tree of life", which is derived from an analysis of completely sequenced genomes.  If you click on the diagram, you'll get the full version in its considerable glory.
This really demonstrates quite neatly the ancestry of life on Earth, and how the growing quantity of genome data supports the origins of, and relationships between, different taxa.
It's interesting to compare this with Darwin's notebook sketches, his published figure from The Origin of Species, and Haeckel's famous "tree illustration".
Here's Darwin's first tree of life, from his notebooks: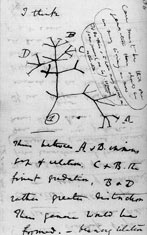 It's interesting to see "triple branching" events in this tree, and also his scribbled notes.  By the publication of the Origin of Species, the diagram had metamorphosed into a somewhat more geometrical plan.  This is the only illustration in The Origin!
Haeckel's version, complete with Humans at the top, is perhaps the most decorative.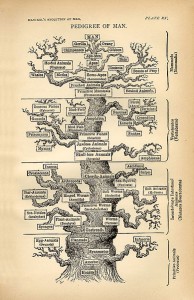 See also the Wikipedia pages on Cladistics and the Tree of Life.